Need some inspiration when building your quiz, here a few we like. If you want your own quiz added here, just leave a comment. Note: we will manually check each comment, ban spammers and obvious adverts disguised as quizzes. This takes some time, so please have some patience after posting a link to your quiz. The best ones will be featured on this page.
Quiz (NBA's Chicago Bulls): http://www.nba.com/bulls/quizzes/how-well-do-you-know-your-usa-basketball-olympics-history
Short yet effective and with a great lead capture form before the results.
Personality test (Penguin / Random House): http://www.penguin.co.uk/articles/find-your-next-read/recommendations/2016/jul/where-will-you-travel-by-book/
The book publishers behind John Grisham used this personality test to suggest summer reads. Great example of how to use a personality test to sell products.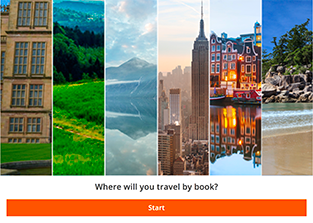 Poll (Creative Boom): http://www.creativeboom.com/resources/20-free-or-affordable-tools-to-help-money-saving-freelancers-run-a-lean-business/
The visual arts blog Creative Boom is making good use of polls to capture reader sentiment.
Poll (90min): http://www.90min.com/posts/3547345-manchester-united-hand-trial-to-free-agent-liandro-martis-amid-leicester-interest
Massive sports publisher 90min uses polls all over their site to get their audience's sentiment. When we found this one on their site it had over 73,000 votes already.